Are you on the quest for the best trading chart platform that can transform your trading journey? In this in-depth exploration of TradingView, we'll delve into what sets this platform apart, making it a game-changer for traders at every skill level.
---
Table of Contents
---
🔍 Unveiling the Power of the Best Trading Chart Platform
Have you ever found yourself staring at a chart, feeling like you're deciphering an alien language?
I know I have.
When I first started delving into the world of charting, I felt completely overwhelmed. With so many different elements and indicators to take into account, I wasn't sure where to start. That's when I discovered TradingView, and let me tell you, it was a game-changer.
TradingView is an online charting and social trading platform that offers a comprehensive set of tools for traders of all skill levels from novice to experienced investors and traders, to achieve the best trading results.
✅

Customizable Charts for Your Unique Needs
One of the things that makes TradingView stand out from other charting platforms is its highly customizable charts. With TradingView, you can craft charts that align perfectly with your specific requirements, utilizing a diverse range of charting and analytical tools.
I have been posting my chart analysis, along with TradingView chart screenshots, on my StockTwits and Twitter. Feel free to check them out to witness how I leverage these charts for my daily trading endeavors. (Using chart program Pro+)
Whether you're a beginner or an experienced trader, TradingView has something valuable to offer. The platform is designed to be intuitive and user-friendly, with a range of tools and resources to help you improve your trading skills in the best trading environment.
✅

Extensive Data Coverage and Advanced Analysis Tools
One of the key features of TradingView is its extensive data coverage, spanning various asset classes such as stocks, futures, forex, and cryptocurrencies. This all-encompassing coverage ensures that traders have access to real-time data, historical statistics, and a wide array of fundamental and technical analysis tools, empowering them to make the best trading decisions.
✅

Identifying Market Trends and Chart Patterns
In addition to its data coverage, TradingView offers a range of analysis tools that can help traders identify trends and patterns in the market. These tools include a range of indicators, such as moving averages, Bollinger Bands, and MACD, as well as drawing tools and custom scripts.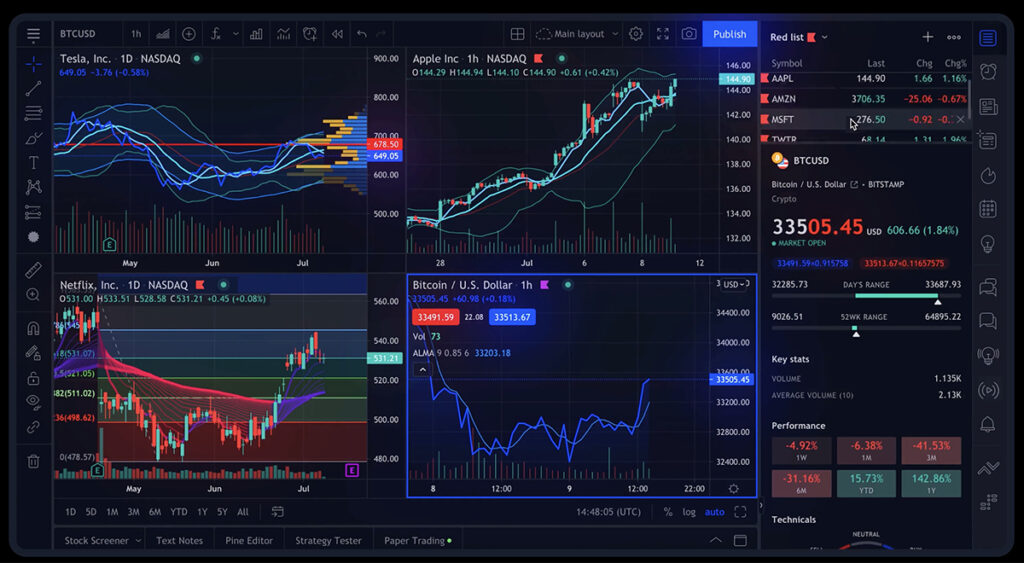 ✨ The Ultimate Online Trading Platform: TradingView's Distinctive Features
✅

Thriving Community and Valuable Insights
However, TradingView is more than just a charting platform; it's a thriving social hub for traders. It fosters connections among traders, enabling them to share insights, strategies, and stay updated on the latest market trends and developments. The platform's social community is an invaluable resource for those who wish to learn from others and stay ahead in the game.
✅

Educational Resources for Best Trading Success
For beginners taking their first steps into the trading world, TradingView offers a treasure trove of educational resources, including tutorials and webinars. These resources prove to be immensely beneficial for newcomers eager to grasp the nuances of trading and charting techniques.
✅

Seamless Integration and Flexible Pricing
Another feature that sets TradingView apart from other trading platforms is its seamless integration with multiple brokerages, allowing traders to execute trades directly from the platform. This eradicates the inconvenience of toggling between different software programs. Moreover, TradingView offers a range of pricing options, from a free basic plan to premium plans with advanced features such as real-time data and advanced alerts.
✅

User-Friendly Interface for Smooth Trading
One of the things I love about TradingView is its simplicity. The platform is incredibly easy to use, even for those who are not tech-savvy. The user interface is intuitive and straightforward, and the platform's drag-and-drop functionality makes it easy to customize charts and add indicators.
🏹 For Sharpening Your Trading Skills
Consistently winning in the stock market is a formidable challenge. It's a domain where learning is the key of survival. Trading courses serve as a bridge to deeper market comprehension, catering to everyone from novices to seasoned investors.
Explore StockOdds, a leading trading course that unlocks actionable insights and profound stock market trading technical knowledge for your best trading profits. With seasoned traders and expert market analysts as your guides, you'll embark on a journey to hone your technical analysis skills and gain the confidence to navigate the markets effectively.
For a comprehensive look at StockOdds, delve into our detailed review in the article titled: "Unveiling the Best Stock Trading Course: A Comprehensive Review of StockOdds".
To explore the advantages of StockOdds, click the button below 👇🏽👇🏿
🍵 Conclusion: The Best Trading Platform for Every Trader
In conclusion, TradingView is a powerful and versatile trading platform that offers a comprehensive set of tools for traders of all skill levels, making it the best trading choice. Whether you're a technical analyst or a fundamental analyst, a short-term trader or a long-term investor, TradingView has something to offer. With its intuitive interface, customizable charts, extensive data coverage, and social community, TradingView is a must-try for anyone looking to improve their trading skills and make more informed trading decisions.
🌿 FAQs
1. Is TradingView suitable for both beginners and experienced traders?
Absolutely! TradingView offers tools and resources catering to traders of all skill levels.
2. Can I customize charts on TradingView according to my preferences?
Yes, TradingView charts are highly customizable, enabling you to tailor them to your specific needs.
3. What types of assets does TradingView cover?
TradingView covers a wide range of asset classes, including stocks, futures, forex, and cryptocurrencies.
4. Does TradingView offer educational resources for beginners?
Indeed, TradingView provides tutorials and webinars, serving as valuable resources for those new to trading.
5. How can I learn more about technical analysis?
To dive deeper into technical analysis, consider enrolling in online courses or reading books on the subject. There are also numerous YouTube channels and forums where traders share their insights.
Additionally, if you're looking for a comprehensive online trading course, I recommend checking out StockOdds. They offer a range of educational resources and insights that can help you sharpen your technical analysis skills.
👉 👉 Connect with Me: Instagram and StockTwits ✌️